Salesforce Partner for Multi Cloud Projects
We translate your business requirements into Salesforce reality. As a Salesforce Boutique Partner with years of experience implementing digital transformation projectsgWe help our customers translate their vision, goals and strategy into effective Salesforce solutions in the areas of marketing, sales and customer service. Working in partnership, we always keep your business value and the resulting customer experience of your customers in mind.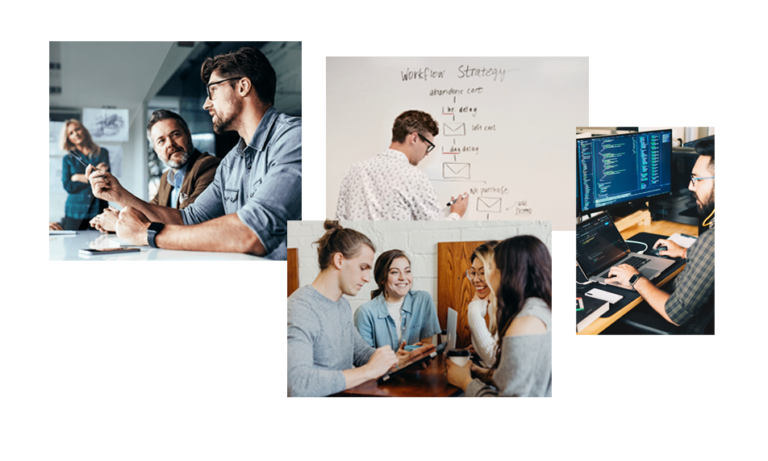 Arrange an no-obligation consultation with one of our experts now
We translate your vision into Salesforce solutions.
Benefit from our years of experience from a variety of complex and challenging Salesforce Cross-Cloud projects. We work with you to develop an optimal solution, taking into account your existing IT infrastructure, and stand by your side as an experienced partner.
We are specialized in Multi Cloud projects with Salesforce
Marketing Cloud
The right marketing message at the right time via the right channel – the Marketing Cloud enables professional multi-channel marketing at the highest level.
Service Cloud
Effective customer service on any channel – via email, social, on the phone or even Whatsapp – the Service Cloud increases customer satisfaction, reduces costs and can transform your service center into a profit center.
Marketing Cloud Personalization
Personalize your website in real time. Formerly known as Interaction Studio, MC Personalization enables you to address your customers individually across channels – whether you already know them or still want to get to know them.
Salesforce Data Cloud
With the end of the cookie age and the steady growth of walled garden advertising providers, it's never been more important to have your data under control. With Salesforce Data Cloud (formerly Salesforce CDP), your marketing team has access to all your customer data – whether it's to design campaigns, drive content, or perform marketing analytics.
Sales Cloud
The Sales Cloud is the world's leading CRM application for a reason. It enables your sales force to achieve significant efficiency gains – regardless of size or industry.
Experience Cloud
The focus is on the digital customer experience of your customers. Whether website, customer or partner portal – the Experience Cloud allows seamless design and data integration.
Marketing Cloud Intelligence
Your marketing data like you've never seen it before. Formerly known as Datorama, Marketing Cloud Intelligence lets them make data-driven marketing decisions from a central dashboard.
Marketing Cloud Account Engagement
If your B2B sales team does intensive lead management, Marketing Cloud Account Engagement (formerly Pardot) is the solution for you. Directly from the Sales Cloud, you can run lead nurturing and management in a snap.
certified Salesforce Consultants
Our experts have the latest certifications.
Years of Salesforce experience
Our team of seasoned Salesforce experts with decades of experience.